Seno Freestanding Stone Bath 1600 (White)
Translation missing: en.products.product.price.regular_price
£1,499.00
Translation missing: en.products.product.price.sale_price
£1,499.00
Translation missing: en.products.product.price.regular_price
£1,499.00
Translation missing: en.products.product.price.unit_price
Translation missing: en.accessibility.unit_price_separator
DIMENSIONS
L 1600 mm W 700 mm H 580 mm
FILL CAPACITY
290 L
WEIGHT
90 kg
OVERFLOW
External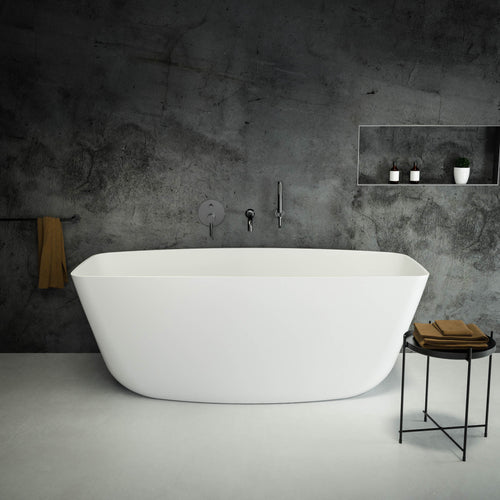 ×
FOR PRE-ORDERS
This product is currently out of stock, but it can be pre-ordered. To pre-order, please either call or email us and we will be able to advise you of an estimated delivery date and take your pre-order if you would like to proceed.
Unrivaled Durability
An Innovative Mineral Composite
With resistance to chipping, cracking and fading, Hansel Stone resin stone freestanding baths will provide long-lasting soaks for years to come.
Luxurious Soaking Comfort
Made with Ergonomics in Mind
With beautiful curved sides, our luxury baths allows for luxuriously long soaks in greater comfort.
European Craftsmanship
Seamless, Elegant Design
Offering a sleek, uninterrupted design, Hansel Stone luxury freestanding baths enhance every bathroom with an eye-catching centrepiece designed and manufactured in Europe.
Uncompromised Sustainability
Green Manufacturing
Made with the planet in mind, Hansel Stone products are manufactured using 100% renewable energy.
Long Lasting Warmth
Incredible Heat Retention
Through perfectly balancing thermal conductivity and insulation, our exclusive mineral composite material keeps the surface warm and keeps the water warmer for longer.
Lifetime Guarantee*
Luxury that Lasts a Lifetime
Be assured of the craftsmanship of our mineral composite — our Hansel Stone bath ware comes with a lifetime guarantee.
Introducing the Seno 1600 Resin Stone Freestanding Bathtub
The Seno 1600 freestanding bath in stone resin is just one of our quality natural resin stone baths designed with elegance and luxury in mind. These stone baths are made from Mineral Composite, which is one of the most durable and hard wearing materials for bathtubs.
With a minimalist yet modern design, the Seno 1600 bathtub is available in matte white or polished white — styles that can complement any bathroom interior and make a statement. With a lifetime guarantee, you can also enjoy this spacious resin stone bath for years to come.
Features & Benefits
With its rounded rectangular shape, the Seno 1600 bath is among the most comfortable bath shapes and styles in our range because it offers plenty of space. This is enough to make the Seno the perfect contemporary freestanding bathtub, but with unique features such as its anti-bacterial surface and sound insulation, it offers so much more.
Read More
Ergonomic Design for Comfort
This double ended bath has beautiful finishes that can complement many styles of bathrooms, but is also designed with comfort in mind. High angled walls and a smooth surface make the Seno 1600 the perfect stone composite bath for decadently long soaks.
When you add one of these stone composite baths to your bathroom, whether modern or traditional, you are adding a touch of luxury that will take bathing to indulgent new heights.
Strong & Durable Materials for Longevity
If you're wanting a luxury stone bath in the UK that will look good and last, you can't go wrong with a bathtub crafted with innovative Hansel Stone Mineral Composite. Made from a hard dolomite stone and elastic resin binder, our unique material offers a strength and durability that is unmatched when compared to other bathtubs, like acrylic and even natural stone baths.
Our strong Mineral Composite is also stain resistant, so your new freestanding stone bathtub will maintain its matte/polished white colour and not turn yellow over time. The colour also won't flake or detach on the surface.
Easy to Clean Anti-Bacterial Surface
Our Mineral Composite stone also has anti-bacterial properties that naturally resist bacteria. This makes it easy to clean and ensures it maintains over time without the need for harsh chemicals, which is safer for your household and much better for the environment.
Mineral Composite is a high quality material that doesn't require complex cleaning techniques and special cleaning products. Using conventional household cleaning agents, you can simply wipe the surface of your resin stone baths clean with a cloth.
Sound Insulation for Acoustic Absorption
One of the most unique features of Mineral Composite is that it absorbs sound, which creates a more relaxing bathing experience.
Compared to acrylic baths, our freestanding stone resin baths are dense and thick, which gives them superior acoustic absorption when water touches the bathtub's surface. Instead of rushing water hitting the tub, the serene sound of silence will create the perfect atmosphere leading up to your luxuriously long session of soaking.
Long Lasting Warmth
Our Mineral Composite consists of dolomite stone, which creates the perfect balance of thermal conductivity and insulation. This allows it to retain heat from the air and water, which keeps the water warmer for longer and makes the surface warm to the touch.
If you like taking longer baths but don't enjoy having to top the bath up regularly because the water's temperature keeps dropping, the Seno freestanding stone bathtub maintains a steady temperature during bath time.
For stone freestanding baths that turn drab bathrooms into dreamy ones while offering practical features that enhance the bathing experience, order the Seno 1600 bath from Hansel Stone, a trusted brand for luxury stone bathware in the UK!
FAQs
Is an oval freestanding stone resin bath comfortable?
With its more traditional rectangular shape, the Seno 1600 freestanding tub is one of our most popular tubs because it offers superior comfort.
Its double ended design with angled walls and rounded corners alongside its smooth, warm to the touch surface makes the Seno an exceptionally comfortable tub that takes the bathing experience to decadent new heights.
Are freestanding stone baths easy to install?
The Seno 1600 freestanding tub is simple to install because of its practical rectangular shape and because it doesn't require complex plumbing and waterproofing systems.
Since this bathtub is freestanding, it also doesn't have to be sealed against a wall or need any additional framework, making it quick and hassle-free to install.
Will a stone resin oval freestanding tub fit in my bathroom?
We offer various sizes for freestanding tubs, including smaller options for compact bathrooms. With a wide range of style, shape and size options in stock, our team can help you find a bathtub that suits all of your requirements, whether it's for a smaller or larger bathroom.
Make a statement with a luxury stone freestanding bath in the UK. Get in touch with Hansel Stone's bathware experts today for enquiries or advice.
Hansel Stone: A Trusted Brand for Luxury Stoneware in the UK
Hansel Stone manufactures high quality stone bathtubs, basins, shower trays, and countertops using an innovative technology developed in Europe. Along with our in stock core range, we also offer a bespoke design service.
With one of our freestanding baths in your home, whether limited in size or not, you can transform your bathing experience from drab to dreamy. With many designs to choose from, we know you'll find your perfect match in our timeless stone resin tub range.
Transform your bathroom into a haven of contemporary luxury with the 1600 freestanding bath. UK wide delivery available and we deliver abroad!
Order the Seno 1600 composite stone bath today to give your bathroom a touch of luxury that will make it your new favourite place to relax in your home.
DISCOVER THE BENEFITS OF MINERAL COMPOSITE
STRONG
Our Mineral Composite is solid right the way through, resulting in no flexing and creaking, unlike traditional acrylic.
EASY TO CLEAN
The glossy non-porous surface allows our baths to be wiped clean without the need for harsh chemicals.
DURABLE
Our Mineral composite has a white, glossy non-porous surface coating. Allowing for stain resistance far surpassing that of acrylic, while also being resistant to chipping.
WARMTH
The use of dolomite stone in the Mineral Composite allows for the right balance of thermal conductivity and insulation. Giving a material that retains heat from the air and water around it.
ANTI-BACTERIAL
Our Mineral Composite features anti-bacterial properties, resisting the growth of harmful bacteria, being able to be easily cleaned and using conventional household cleaning agents.
SOUND INSULATION
Mineral Composite offers superior acoustic absorption compared to acrylic. Attributed to the density and thickness of the material, allowing for a reduction in the sound of water striking the surface.
FAQs
Hansel Stone products are proudly made in Europe. Our manufacturing facilities adhere to the highest standards of craftsmanship and quality to ensure that each product meets our exacting specifications.
Hansel Stone products are made from a natural compound of dolomite stone and a premium resin. This unique composition guarantees the best quality and durability, setting our products apart from others on the market.
Some resin products on the market may use artificial fillers in their manufacturing process, compromising the durability and quality, these products are susceptible to thermal shock/cracking as well as yellowing over time. In contrast, Hansel Stone uses only the highest quality materials, ensuring long-lasting performance and offering a lifetime guarantee.
Bathtubs: Hansel Stone bathtubs are shipped via LTL (Less ThanTruckload) freight. They will be delivered to the curb or nearest accessible point to your location. Please note that you may require additional assistance to move the bathtub to its final location. Shower Pans and Basins: Hansel Stone shower pans and washbasins are typically shipped as standard parcels. They will be delivered to your specified address via a standard parcel delivery service.
At Hansel Stone, we take great care to ensure the quality of our products before shipment. However, we recommend inspecting the item upon delivery. If any damage is found, please report it to our team as soon as possible. We will work with you to address the issue and find a satisfactory resolution.
By accepting delivery of the item, you agree that it was received in good condition and free from damage. We encourage you to inspect the product upon receipt and report any damages immediately. Any damages identified after acceptance of delivery may not be covered under our warranty.
Hansel Stone provides a warranty that covers manufacturing defects. However, damages caused after delivery, such as mishandling or improper installation, are not covered under our warranty. It is important to inspect the item upon receipt and report any damages promptly to ensure appropriate resolution.
At Hansel Stone, we strive to ensure customer satisfaction. If you wish to return a product, please carefully review our return policy and reach out to our customer service team to initiate a return request and obtain further instructions. We are here to assist you and address any concerns you may have.

Note: Returns are valid up to 14 days after delivery.
To initiate a return, please contact our customer service team. They will guide you through the process and provide you with the necessary instructions and return authorization. Remember to review our return policy for more information on eligibility and associated fees.
Yes, we offer free storage for your item if you require delivery at a later date. Simply inform our customer service team in advance of your preferred delivery date and duration of storage. We will coordinate with you to ensure secure storage until the agreed-upon delivery date.
Hansel Stone products come with a lifetime warranty. Please refer to our Terms & Conditions for full warranty details. For any warranty-related questions or assistance, please contact our customer service team.

Note: Lifetime warranty coverage is subject to terms and conditions.
For detailed installation instructions, we provide product-specific installation guides. These guides contain step-by-step instructions to help you with the installation process. To access the installation guide for a specific product, please visit the product page on our website. Look for the "Installation Guide" section, where you will find a downloadable PDF guide.